The Phantom VOicE
Welcome back to school! During the 2017-2018 school year our News Team will be creating multiple online issues of The Phantom Voice for your entertainment. Enjoy this year's first issue centered around the start of the academic and athletic seasons, Homecoming, and the voices of our student writers!
Chris Bacalla

The tangled, lackadaisical wires that fall from the heads of half of the student population serve the wearer more than most can express. For some, music is an enhancement of their current mood, others, an escape. Preceding sporting events, they serve as a personalized "hype-man" Much like other necessary items, headphones give the facade of conformity. But, the artists and albums flooding each student as they walk the halls vary much more than non-millennials would presume.

Having interviewed a handful of BBP students, a more specific look at the tastes and impacts of music from student to student have been revealed. It's an easy habit to spot a headphone-wearer and assume they're listening to a top 100 song, or hear a bass line and automatically think it's the song you last heard on 106.1. But, like most seemingly one-dimensional things we encounter, it's more complex. Genres of preference that were mentioned include alternative rock, pop-punk, rock, rap, R&B, hard rock, indie and that of baroque-era. Clearly, there is quite a range among these students. One may note, however, the large amount of rock-based genres. This is likely a result of the massive influence that the outburst of rock&roll had just over a half century ago. Quite the number of artists/bands of top choice were mentioned as well: Kendrick Lamar, Snoop Dogg, Ice Cube, Future, Modern Baseball, Chance the Rapper, Brand New, Panic! At the Disco, Chilidish Gambino, Yabadum, John Mayer, Lil Wayne, Rihanna, Cage the Elephant, Blink-182, Arctic Monkeys, Big Sean, Kanye West, Two Door Cinema Club, Fall Out Boy, The Front Bottoms, Foo Fighters, Red Hot Chili Peppers, Neutral Milk Hotel... This many artists out of only a small percentage of students surveyed depict the diversity of taste that exists in our school. Multiply those numbers some more and consider the hundreds of songs by each artist; now the chance of a correct, blind (or deaf, rather) guess at a student's song they're listening to at a given moment is the equivalent of a lottery win. It may also be presumed that the sharing of music between friends simply polarizes the tastes of students. Even though most students interviewed shared similar tastes with their friends, however, several also credited their friends with the reason for their own expansion of bands and genres on their playlist.

Although they're always performing the same task, headphones among BBP students are not victims of functional fixedness. A common theme for reasons to listen to music was for motivational purposes: Getting through homework, working out, during/preceding sports; music is guiding them through it all. Filling silences, avoiding boredom, and sheer entertainment are also simplistic but equally important reasons that those surveyed gave as reasons for listening.

In the same way that music can replace silence, though, it can also "replace feelings of loneliness" An artist and his or her lyrics can be the second party needed in times of isolation. As mentioned, music can also be an escape "when things are too much to handle" as one student put it. Lyrics and melodies alike can take a listener into another part of themselves, as well as the universe within their brain yet without their experiences. The present and or our own reality doesn't always provoke enjoyable feelings or meet our desires, so why remain in such a state?

Considering the time that must be put in to acquire such a vast taste in music, and the many reasons for doing so, it's not shocking that nearly every student answered "yes" when asked if music is among or above other top tier values in their lives.

So as you scan the halls and spot the many sets of headphones, perhaps now you'll imagine what's flowing through them, as well as the wearers themselves, a bit more complexly.

---
Powered by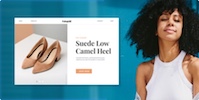 Create your own unique website with customizable templates.