The Phantom VOicE
Welcome back to school! During the 2017-2018 school year our News Team will be creating multiple online issues of The Phantom Voice for your entertainment. Enjoy this year's first issue centered around the start of the academic and athletic seasons, Homecoming, and the voices of our student writers!
Sean Mains
​IT is a horror film based on the book written by Stephen King. It is a remake of the original miniseries from the 90's. This film was directed by Andres Muschietti. Unfortunately the movie was given away in the coming attractions. Like many other movies, the commercial snippets show too much of the movie which makes the horror scenes less scary. The cast of these middle school kids was very enjoyable. Finn Wolfhard starred in a hysterical performance as one of the kids trying to defeat Pennywise the Dancing Clown. You can see that the director really keys on showing the crowd the personal drama these kids go through. Pennywise, the heel in this film, preyed on children's fear to reel them in. Before I saw this film I was expecting to be spooked and that's the last thing I was leaving the theatre.

For anyone who had seen the coming attraction to this film, they would be able to tell when the pop up scares were coming. The CGI was poor, Pennywise's dialogue was weak, and midway through the film it felt as if the movie had no purpose. It felt more like a comedy than a horror film. To give them credit, the cast of young boys were pretty comical, but it was providing more laughs then screams. Bill Skarsgard's performance as Pennywise was sub par. Although I felt the script ruined his potential for the character, the scary clown could have been a lot more haunting. Most exceptional horror films don't give the villain much screen time to make the villains rare appearances entertaining. Pennywise is shown and talks like a normal character, which killed the suspense portion of the movie. Suspense makes horror films and this movie had none of it. I rate this movie two stars. I was misled by the trailers and was harshly disappointed by the outcome.

​

---
Powered by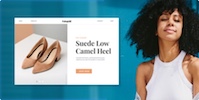 Create your own unique website with customizable templates.