THE PHANTOM VOICE
Thanksgiving Issue
Writers of this issue were encouraged to write about those things in their respective lives that bring them joy. These passions that drive us each day warrant as much gratitude as anything else that may be mentioned at the Thanksgiving Day table. Some tasty Thanksgiving recipes are included as well. Enjoy this issue and your holiday!

To many, the idea of getting punched and kicked would not be defined as a good time but to me it's my favorite thing to do. MMA fighting is a passion I've had for a while and it has been my main sport for almost 10 years. When you've had a bad day and need to relieves some stress this is a great way. Many perceive MMA as two people mindlessly beating the daylights out of each other but it is so much more than that. When you step into that ring you can forget everything that happened that day or that week and get all your frustrations out. Not only can it help you relieve stress but it also keeps you in great shape. Even if you train not to fight but to just keep in shape it's an amazing workout and stress reliever. I know countless people that have both fought and not fought and we all share the same respect and love for the sport. Overall it's a very misunderstood sport. The technique for each punch is different and the timing of each kick needs to be exact or you can get yourself knocked out. Understandably that does not sound enticing to many but to me it's the thrill of it that keeps me coming back week after week. It is not a sport for everyone but for those with the determination to get themselves in shape or for anyone looking to lose some weight after the holidays, it can be something that can change your life.

---
Powered by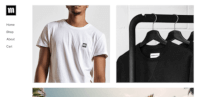 Create your own unique website with customizable templates.