THE PHANTOM VOICE
Thanksgiving Issue
Writers of this issue were encouraged to write about those things in their respective lives that bring them joy. These passions that drive us each day warrant as much gratitude as anything else that may be mentioned at the Thanksgiving Day table. Some tasty Thanksgiving recipes are included as well. Enjoy this issue and your holiday!

As Thanksgiving approaches, we look at what we are thankful for. One thing I, as well as a lot of people, are thankful for, is my dog. They earn the title "Man's best friend" by bringing so much unconditional love and joy into our lives. When we come home, they are there at the door to greet us with their tails wagging. They know when we're sad, when we're stressed. They know how to make us feel better. They help get us off the couch by having us play with them. I love walking my dog on weekends when it is sunny. I love telling the story about the first time she went upstairs and was too scared to come down so my brother had to carry her. They are also as loyal as loyal comes. They guard us like we are one of them. They take the duty of being the first line of defense against anyone they don't know. They warm us when we are cold and lie with us when we're sick. I know when I go off to college I am going to miss my dog every day as I know she will be missing me.

​

---
Powered by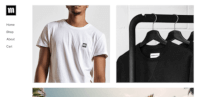 Create your own unique website with customizable templates.