THE PHANTOM VOICE
Thanksgiving Issue
Writers of this issue were encouraged to write about those things in their respective lives that bring them joy. These passions that drive us each day warrant as much gratitude as anything else that may be mentioned at the Thanksgiving Day table. Some tasty Thanksgiving recipes are included as well. Enjoy this issue and your holiday!

Though to some it might seem like a tedious and boring activity, I find fishing to be one of the most enjoyable activity there is. There's nothing quite like going fishing early in the morning as the sun has only just began to reach over the horizon. Whether it be the occasional fluke or bluefish under the Smith Point Bridge, or the dozens of walleye to be caught in the streams of Northern Canada, fishing always proves itself to be exciting and rewarding at its best, and relaxing at its absolute worst.

It was my grandpa who first got me into fishing, as he would tell his many fishing tales he would tell me. I remember one in particular as he would, on several occasions, grow fish he caught that were too small to eat by themselves in a fish tank for several months. Only after his sons grew attached to the fish and considered it their pet would my grandpa be seen eating a sandwich, comprised of course of with the fish his sons had become so attached to.

I will never forget about when I hooked into a northern pike during the summer of 11th grade, during my canoe trek in Canada. It had to have been upwards of 6 pounds; massive for a freshwater fish. Immediately after setting the hook with a steady upward motion, I heard the clicking of my reel as the fish rapidly pulled out line. The rod bent as I fought the fish, always being careful not to pull to hard and snapping the line. But every time the fish would get close to the shore, it would swim off yet again, dragging out many yards of line along with it. After what felt like an eternity, the fish had finally tired, and I quickly got a hold of it. Realising the immense size of the thing, I immediately took a picture to remind me of that battle

Though some do not see the appeal, I personally find fishing to be relaxing and exciting almost at the same time, and a thoroughly enjoyable activity.

---
Powered by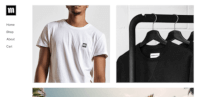 Create your own unique website with customizable templates.