THE PHANTOM VOICE
Thanksgiving Issue
Writers of this issue were encouraged to write about those things in their respective lives that bring them joy. These passions that drive us each day warrant as much gratitude as anything else that may be mentioned at the Thanksgiving Day table. Some tasty Thanksgiving recipes are included as well. Enjoy this issue and your holiday!

Jillian Koenig

Something I do that brings me happiness is volleyball. I've just recently started the sport but I've grown very fond and passionate about it. When you're in the game you have to focus on the ball and the ball only. This allows me to drown out my thoughts and stress and just focus. I love the feeling of being part of a team and only having a common goal. Sometimes it's stressful when I put too much pressure on myself to play well, or I have to make a tough dig, but even in those stressful moments, I'm still having fun and playing the best I can.

When I get home the first thing I do is get changed, put on my knee pads, grab a ball and go outside to the "court" we bought for the backyard. I practice my serving, hitting, and passing with my dad. Then I do my homework. When I'm done with that I get ready to go to volleyball. I work my hardest at practice because every second playing counts. The next day I repeat and repeat, and repeat, and repeat.

The monotony doesn't bother me, though. I like the repetitiveness of practicing because it works the skills into my brain until I have it perfect every time. I'm nowhere near perfection today but tomorrow I'll be one day closer, and someday I'll get there. No matter how hard something is, if you love it, you'll be willing to work at it, day after day until you lose track of how many days you've spent working on it. It'll always be worth it.

​

---
Powered by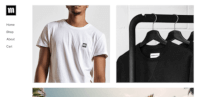 Create your own unique website with customizable templates.