THE PHANTOM VOICE
Thanksgiving Issue
Writers of this issue were encouraged to write about those things in their respective lives that bring them joy. These passions that drive us each day warrant as much gratitude as anything else that may be mentioned at the Thanksgiving Day table. Some tasty Thanksgiving recipes are included as well. Enjoy this issue and your holiday!

Annie Buxton

​

Ingredients

Apples

1(14 ounce) package individually wrapped/ unwrapped caramels

2 tablespoons of milk.

Directions

Remove the stem from each apple and press a craft stick into the top. Butter a baking sheet.

Place caramels and milk in a microwave safe bowl, and microwave 2 minutes, stirring once. Allow to cool briefly.

Roll each apple quickly in caramel sauce until well coated. Place on prepared sheet to set.

---
Powered by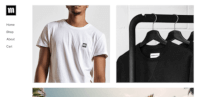 Create your own unique website with customizable templates.