THE PHANTOM VOICE
Thanksgiving Issue
Writers of this issue were encouraged to write about those things in their respective lives that bring them joy. These passions that drive us each day warrant as much gratitude as anything else that may be mentioned at the Thanksgiving Day table. Some tasty Thanksgiving recipes are included as well. Enjoy this issue and your holiday!

By Alexander Gaglio

Makes 24 servings

12 hardboiled large eggs

2 tbs mayonnaise

1 & ½ tsp white vinegar

1 tbs dijon mustard

½ tsp salt

½ tsp pepper

½ tbs paprika

Step one: Remove shells from eggs. Put eggs on a plate and cut them in half vertically. Put all the yolks in a bowl. Put aside the whites of the eggs for later.

Step two: use a fork to mash the egg yolks. Add mayonnaise, mustard, and white vinegar. Mix the together for a smooth consistency. Add salt and pepper.

Step three: using a teaspoon, fill the whites ( where the yolk used to be). When completed sprinkle paprika on top of the eggs.

Step four: cover using plastic wrap and chill in refrigerator until ready to be served.

​
Powered by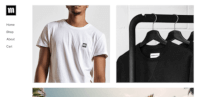 Create your own unique website with customizable templates.